In Israel, sentiment mixed on negotiations for Gilad Shalit release
Many Israelis have rallied around a Gilad Shalit release deal, but critics say an exchange of the captured soldier for Palestinian prisoners could cause new wave of violence.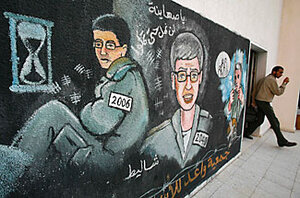 Suhaib Salem/Reuters
Yossi Zur's son was on his way back from school on a March day in 2003. But Asaf, then 16, never made it home. The Haifa city bus he was on was blown up by a Hamas suicide bomber, in an attack that killed 17 people and wounded 53.
Now, Mr. Zur is one of the activists at the forefront of a campaign to try to stop Israel from reaching a deal with Hamas that would involve the release of between 900 and 1,000 Palestinian prisoners in exchange for one Israeli soldier, Sgt. Gilad Shalit. And as the negotiations wear on, the Israeli public is showing mixed feelings over whether it feels like a wise trade.
"I'm not doing this because I'm looking for revenge. I know nothing will bring my son back," Mr. Zur said in a phone interview from his home in Haifa. "But I have three other sons and I want them to grow up safely in this country and don't want harm to come to them."
"I believe that releasing so many terrorists is going to do a lot of harm, most probably by creating a new wave of terrorism," he adds, "and we know many of these terrorists go back to the same kind of activity after they are released."
It's not as if Zur knows whether any of the people involved in planning the attack on Haifa's Bus 37 are on the list. Zur and other bereaved-parents' groups made an appeal to Israel's Supreme Court this week, requesting that the list of prisoners being considered for release be made public.
The Supreme Court rejected the request and sided with the security establishment, agreeing only to release the number of prisoners under consideration. The groups who had filed the request decried the decision as "disappointing and undemocratic."
At the same time, many Israelis have rallied around Shalit's fate and express support for his family members, who have become regular figures on the nightly news over the past few years – but especially so in the last few weeks. Various polls have indicated that a majority of Israelis support some kind of a prisoner exchange in return for Shalit.
---