Israel closes sole oil and gas terminal on Gaza border
Israel has closed the Nahal Oz crossing into Gaza for security reasons. Host to the sole oil and gas terminal serving Gaza, it's also the site of several recent militant attacks.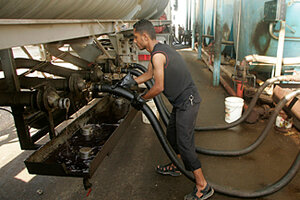 /Ismail Zaydah/Reuters/File
The population of the Gaza Strip is facing an acute cooking gas shortage this winter, after a unilateral Israeli decision in October to permanently close the sole oil and gas terminal between the coastal Palestinian territory and the Jewish state.
The Nahal Oz crossing has been shut down for "security reasons," an official with the Israeli coordination office for the Gaza Strip said, adding that it will only act as "a backup" when the Kerem Shalom crossing in the south is too congested.
Nahal Oz, located in Gaza's north and just east of Gaza City, has been the site or in the vicinity of a number of deadly attacks carried out by Palestinian militants. The terminal itself is visibly damaged from a mortar attack in 2008.
But Kerem Shalom does not have the proper infrastructure to meet the territory's cooking gas needs, local businessmen say. The move has had a significant impact across the territory, forcing bakeries to either close or shift to other fuel sources, compelling hospitals to suspend cooking and laundry services, and threatening families' abilities to cook and heat their homes as winter closes in.
"At Kerem Shalom, there is no infrastructure [for gas transport], and only limited amounts are allowed in," says Amr Hamad, executive manager of the Palestinian Federation of Industries, a private sector organization. "Cooking gas is so important to Gaza right now," he continues, "particularly with the siege – we rely on it totally."
---