Amid student protests, Iran widens net against opposition
As students in Iran launched fresh protests, authorities vowed an end to 'leniency' – a point underscored by the arrest of activist Parastou Forouhar, whose dissident parents were killed by government agents in 1998.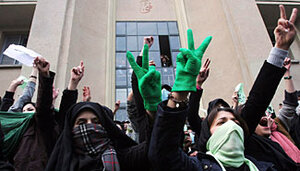 Reuters
Authorities in Iran have blocked a high-profile activist – the daughter of a couple murdered by government agents more than a decade ago – from leaving the country. It's another example of how Iran's security forces are widening their net – and definition – of potential opponents as they try to stamp out months of dissent.
"So far, we have shown restraint. From today no leniency will be applied," Iran's chief prosecutor, Gholam Hossein Mohseni-Ejei, said on Tuesday. Tehran prosecutors should take stronger action, he instructed, against those "who violate public order and damage public properties."
The warning came as pro-regime militants attacked protesting students for a second day at Tehran University on Tuesday, one day after nationwide clashes by tens of thousands of students – the biggest in months against a disputed election last June – resulted in 204 arrests.
One example of the broadening crackdown is the treatment of Iranian activist Parastou Forouhar. She was prevented by authorities from returning home to Germany after an annual visit to mark the anniversary of the November 1998 killings of her dissident parents, Darioush and Parvaneh Forouhar.
For years, Ms. Forouhar has pushed Iranian authorities to learn the truth behind the deaths of her parents and three other dissident intellectuals, in what came to be known as the "chain murders," carried out by a death squad with high connections from inside Iran's Ministry of Intelligence. (Read Forouhar's account of the killings and subsequent efforts to shed light on them here.)
---