Obama Nobel Peace Prize: What Arabs think
The Obama Nobel Peace Prize is seen as inappropriate by many Arabs, who are angry about the surge of US troops into Afghanistan and a stagnant Israeli-Palestinian peace process.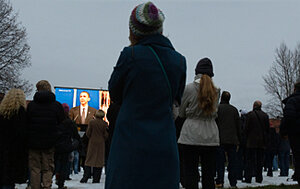 Chris Helgren/Reuters
In Arab eyes, President Barack Obama collected his Nobel Peace Prize Thursday in Oslo at an ill-timed moment.
Days before the president departed for the prize-giving ceremony, he announced that 30,000 more American troops would be dispatched to Afghanistan, a move seemingly at odds with his status as a Nobel Peace Prize recipient and one that angers Muslims throughout the world. In addition, the Israeli-Palestinian peace track is festering two months after Obama yielded to Israel's refusal to implement a total settlement freeze in the occupied Palestinian territories, settling instead for a 10-month partial freeze
"He is a disappointment. He has done nothing," says Khodr Hayek, a businessman in the Haret Hreik neighborhood of southern Beirut, an area of staunch support for the militant Shiite Hezbollah. "If he was serious, he should have done something by now. He said Israel shouldn't build settlements, but the Israelis didn't care. No one is listening to him."
Others, however, are more inclined to give Obama a chance, saying it is too soon to dismiss the new president after only 11 months in office.
---