Israel: Netanyahu backs benefits package for settlers after protests
After 10,000 settlers and their supporters protested in Israel last night, Prime Minister Benjamin Netanyahu offered tax breaks and other benefits to mollify them. But his effort to please everyone may be backfiring.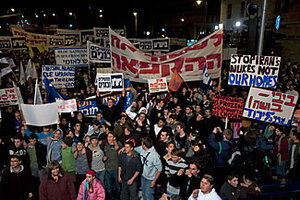 Sebastian Scheiner/AP
Israeli Prime Minister Benjamin Netanyahu faces mounting resistance from his political right to the 10-month settlement freeze announced two weeks ago. And there are increasing signs that his efforts to please the full range of constituents represented in his broad-based coalition government may be backfiring.
Promises that the freeze was temporary failed to mollify angry settlers and their supporters, some 10,000 of whom came out to protest in Jerusalem Wednesday night. Today, Mr. Netanyahu announced additional funds and new social benefits to tens of thousands of settlers in a package directed toward areas of "national priority." The package would recognize isolated settlements as "national development areas" that get preferential treatment and tax breaks to help the communities survive.
The left-wing Labor party slammed Netanyahu's move, and a group of Labor "rebels" began lobbying to get its ministers to vote against the plan at a cabinet meeting this coming Sunday.
The Labor party, whose leaders reached the historic Oslo Peace Accords with the Palestinians in 1993, is a part of Netanyahu's coalition government. But several of Labor's most prominent members are increasingly opposed to their participation in that government, and are putting pressure on the party's decisionmakers not to go along with plans to offer such benefits to settlements.
Referendum law would curtail Netanyahu's power
Netanyahu had specifically aimed to build a broad-based coalition government to strengthen his hand in terms of his latitude in peace negotiations. But that approach may be working against him.
---