Should anthropologists help US military in Iraq, Afghanistan wars?
Embedding anthropologists with US military in the Iraq and Afghanistan wars is both praised and derided by academics as violating a social scientist's basic pledge: to do no harm.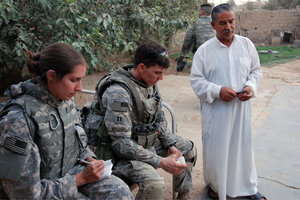 Tom A. Peter
When the military began an experimental program in 2007 to give soldiers a better understanding of cultural sensitivities in Iraq and Afghanistan, many in the military and the media lauded it as a great step forward in the counterinsurgency effort.
Called the Human Terrain System (HTS), the program embeds anthropologists and social scientists in the US military to give soldiers vital local context for shaping their operations. But a group of anthropologists quickly attacked the nascent program, saying that partnering social scientists with combat forces caused them to violate the principal rule of anthropology: to do no harm. By working directly with frontline soldiers, some anthropologists worry that the information generated by HTS social scientists can be used to facilitate potentially lethal military operations or otherwise endanger locals.
Today the program enjoys a core of supporters, but it's done little to address the concerns of anthropologists and, now, rising military complaints that the program has slowed the growth of the military's ability to train culturally sensitive warriors. At a time when the military's ability to conduct counterinsurgency is vital to the success of its operations in Iraq and Afghanistan, determining the value of a program like HTS is increasingly important.
In Iraq and Afghanistan, US military leaders began placing increased importance on understanding local cultures and viewpoints as a critical component of their mission. The question for it is whether HTS helps or hurts that goal.
Lack of empirical measurement on usefulness
---