Yemen used lethal force to quell southern secession protests, says report
Yemen used inappropriate force to quell largely nonviolent secession protests, according to a new report by Human Rights Watch. Southern Yemenis say they have been marginalized.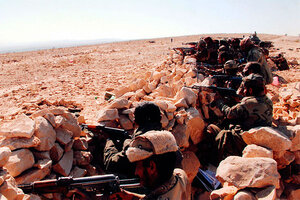 Yemen Army/Handout/REUTERS
Yemen used inappropriate, and at times lethal, force in response to demonstrations held by the largely nonviolent southern separatist movement during the past year, says New York-based Human Rights Watch in a report published Dec. 15.
As a result, the report concluded, Yemen has created a humanitarian crisis and fed the secessionists' narrative that they are marginalized by the central government in the capital of Sanaa.
The report, "In the Name of Unity: The Yemeni Government's Brutal Response to Southern Movement Protests," urges the Yemeni government to uphold international law enforcement standards and bring an end to arbitrary arrests and attacks on press freedom in south Yemen.
"Scrupulous respect for the rights to freedom of peaceful assembly and expression can help open up the necessary space for officials and those in the southern movement to again focus on the substance of their grievances," Christoph Wilcke, a senior Middle East researcher at HRW and coauthor of the report, wrote in an email.

---