Iran missile test follows sanctions talk from West
Iran test-launched its powerful Sajjil-2 missile on Wednesday. The Iranian missile has the range to reach Israel and parts of Europe and a drew a sharp response from the US and and other Western powers, who say it increases their doubts about the Islamic Republic's intentions and hardens their resolve on sanctions.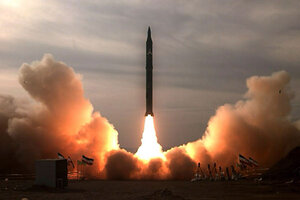 Fars News/Reuters
Iran test-fired the latest version of its longest-range missile on Wednesday, sending a message of defiance as pressure mounts on Tehran over its nuclear program.
The test came a day after the US House of Representatives overwhelmingly approved tougher sanctions legislation against Iran.
Iran state TV showed the green-painted Sajjil-2 missile launching from a desert pad, its exhaust cloud at lift-off swallowing up Iranian flags planted in the ground. The countdown to the launch was completed with three chants of "Alahu Akbar!" or "God is great."
Defense Minister Gen. Ahmad Vahidi said the two-stage missile served as a "strong deterrent" against attack. Speaking on Iranian state TV, he said the missile's "very high speed" made it "impossible to destroy." English-language PressTV reported that the missile "hit the defined target" and was part of Iran's "deterrent strategy [that] serves peace and security and is not a threat to regional stability."
But a very different message was received in Washington: "At a time when the international community has offered Iran opportunities to begin to build trust and confidence, Iran's missile tests only undermine claims of peaceful intentions," said White House spokesman Mike Hammer.
Analysts and politicians took the Iranian launch of the solid-fuel Sajjil-2 missile (sometimes called the "Sejil-2") with a 1,200-mile range – which can reach all of the Middle East and parts of Europe – as the latest twist in the strategic stand-off between Iran and the West, especially over its nuclear ambitions.
---