Israel settlements: rabbis say soldiers' loyalty to God trumps army orders
In an escalating standoff over potential Israel settlement evacuations, dozens of teachers in government-affiliated religious seminaries signed a declaration on Thursday that could reverse long-time support for the secular state.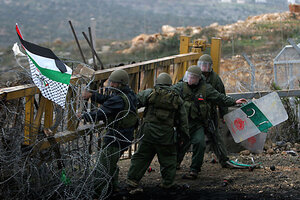 Majdi Mohammed/AP
In Israel, a standoff is escalating between the Israeli defense establishment and religious nationalists over the possible evacuation of Jewish settlements in the West Bank. On Thursday, a group of rabbis published a letter saying a soldiers' loyalty to the divine takes precedence over their commanders.
The declaration was signed by dozens of teachers in government-affiliated religious seminaries – known as "hesder'' yeshivas – after Defense Minister Ehud Barak took the unprecedented step earlier this week of cutting ties with a hesder yeshiva because its dean, Rabbi Eliezer Melamed, openly advocates refusing of orders in case of an evacuation.
One of the signatories, hesder yeshiva Rabbi Ariel Bareli, told Israel Radio that faith trumps implementing democratic adopted government policy in the event of a clash.
"You must understand, that the desire of the nation isn't meaningful for someone who believes in the creator,'' he said.
Split allegiance of Israel's religious nationalists
---