Egypt's Muslim Brotherhood: widening split between young and old
Egypt's Islamic opposition to autocratic President Hosni Mubarak, the Muslim Brotherhood, faces a split along generational lines as older conservatives' influence is rising.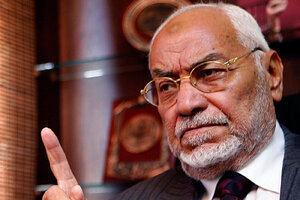 Tarek Mostafa/Reuters/File
Egypt's main opposition group, the Muslim Brotherhood, is facing a change in leadership that could sideline reformists. That could deprive Islamists of an avenue for participating in Egyptian politics, and some could become radicalized.
Mahdi Mohammed Akef, the general guide of the Egyptian Muslim Brotherhood for the past six years, will step down in January amid a widening split in the organization.
Mr. Akef, who has held together a group that includes moderates and conservatives, young and old, urban and rural, says that the organization's internal disagreements are one of its strengths. But his blowup with the group's 15-man Guidance Council when he tried to appoint a younger, reformist member to the elderly and predominantly conservative council has ignited an unprecedented public debate in Egypt.
The goal of the group, which has never been allowed to form a political party, is to make Islam "the sole reference point for ordering the life of the Muslim family, individual, community ... and state."
But within the Brotherhood there are sharp differences over how to oppose President Hosni Mubarak's autocratic regime, what rights should be accorded to women, and how strictly Islam should be interpreted.
---