Iran opposition energized by Montazeri funeral in Qom, say eyewitnesses
The death of Iran cleric Montazeri "is also a blessing – it brought people out again," said an engineering student, one of hundreds of thousands who turned out. Eyewitnesses report pro-regime basiji and mourners in verbal clash inside Qom shrine.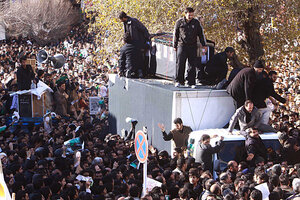 Newscom
Qom, Iran; and Istanbul, Turkey
As host to the funeral of Grand Ayatollah Hossein Ali Montazeri, Iran's holy city of Qom today witnessed pro-government vigilantes directly taking on key opposition leaders – with violence and with stealth; reformist activists reinvigorated by a reason to take to the streets again; and attempts by the regime to dismiss the importance of Iran's chief clerical dissident.
Mourners in the funeral procession for Montazeri expressed both regret for the loss of the spiritual mentor of Iran's opposition "Green Movement" and confidence that his legacy would endure.
Chant leaders led a crowd of hundreds of thousands that spilled beyond one of the most sacred shrines in Iran. Among them was a 19-year-old engineering student, who covered his face with a surgical mask to avoid being identified.
Montazeri's "demise, although very hard for us, is also a blessing – it brought people out again," said this student from Tehran. "Hardship and sadness usually unite people. That is what happened for this revolution in the early days; people used the sadness of Moharram to unite themselves against the Shah."
Montazeri's last wish: 'to end this dictatorship'
That "sadness of Moharram" is upon Iranians again, as Montazeri's death falls early in the annual 10-day period – the beginning of the holy month of Moharram – during which Shiites mourn the death in 680 AD of their most hallowed saint, Imam Hossein.
Protesters in Qom have come to this moment after fighting running street battles for weeks in June – and on every key date since then – in response to the disputed election that reinstalled President Mahmoud Ahmadinejad for a second term. The street battles left scores dead, thousands arrested, and a trail of claims of rape and torture in detention centers.
---