West Bank killings could scupper Shalit prisoner deal
On the eve of the anniversary of the Gaza war, Israeli forces killed three suspected Palestinian militants accused of being responsible for the killing of an Israeli motorist. The suspected militants were once Israeli prisoners, authorities say.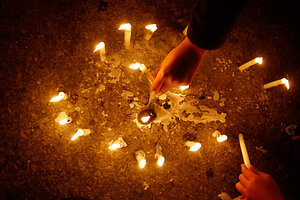 Mohamad Torokman/Reuters
On the eve of the anniversary of Israel's offensive in Gaza against Hamas, an outbreak of violence in the West Bank could complicate a long anticipated prisoner swap that would ease tensions in the war-torn coastal strip.
In an early morning raid in the heart of Nablus, Israeli special forces hunted down and killed three Palestinians accused of being responsible for a shooting attack that killed a father of seven on Thursday as he driving the roads of the West Bank.
But the fact that those killed had been released from Israeli jails could give new ammunition to Israeli opponents of a seminal deal with Hamas to free hundreds of Palestinians in return for Sgt. Gilad Shalit after three years imprisonment in Gaza.
"An escalation of attacks contaminates the atmosphere, especially on the Israeli side,'' says Yoni Fighel, a research fellow at the International Policy Institute for Counter Terrorism in the Tel Aviv suburb of Herzliya. "We're talking about public psychology. It will be a problem for the government to decide on something like that, and they'll wait for better weather."
Last week, Israel appeared to be on the brink of a decision on the Shalit deal, but instead returned a counter offer to Gaza through a German mediator. A formal response by Hamas has not yet been made.
Israel reportedly is resisting releasing some militants to their homes in the West Bank for fear it could spur a renewal of such attacks. Instead, Israel has suggested expelling the prisoners to a third country.
---