Gaza war anniversary: How one group helps victims overcome trauma
The Healing the Wounds of War (HWW) program trains Gazans to use alternative nonmedical techniques to cope with stress from last year's Gaza war.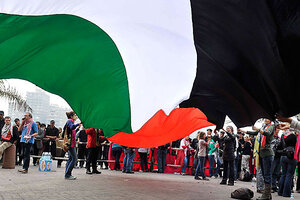 AP
Rawya Hamam was watching her son deteriorate. Hisham wouldn't sleep, clung to her incessantly, and said he wanted to go back into her belly so he'd be safe. "Grandma is lucky she died so she doesn't have to live here now," the boy told his mother.
It's not a normal statement to expect from a five-year-old child, but neither were these normal times. A year ago, at the outbreak of war between the militant Palestinian group Hamas and Israel, anything resembling a normal life disappeared into a violent maelstrom that wreaked unprecedented destruction on the Gaza Strip. More than 1,400 Gazans were killed, according to a Palestinian count, in a campaign the Israeli army named "Operation Cast Lead," with the aim of getting Hamas to stop the daily launch of occasionally fatal rockets onto Israeli communities. Thirteen Israelis were killed in the three-week war.
The sad aftermath of the war is still being calculated; the possibility of war crimes having been committed by either side is still being debated. Thousands of homes destroyed in the war have not been rebuilt, and many public buildings lie in ruins for lack of steel and cement to fix them.
---