Israeli raid fails to derail West Bank calm ... so far
Palestinian militants vow retaliation after this weekend's killing of three suspected militants in the West Bank city of Nablus, but residents there say that economic revival will curb the desire for revenge.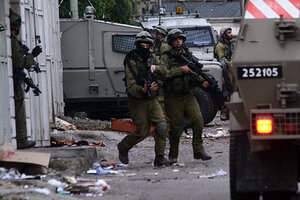 Newscom
The year-and-a-half détente between Israeli forces and Palestinians in the West Bank was strained this weekend after Israeli soldiers killed three suspected militants who were wanted for shooting dead an Israeli motorist.
The first incursion of Israeli forces in Nablus in months hurt the prestige of Palestinian Authority President Mahmoud Abbas, the US-backed leader who has been cooperating with Israel to reassert Palestinian control in West Bank cities. The Jerusalam Post reported that two of the dead Palestinians had ties to Palestinian nationalist militias with ties to Mr. Abbas' Fatah movement.
"Israel tried to embarrass the Palestinian Authority and its president," complained Husam Khader, a Palestinian legislator who visited a mourning tent for one of the gunmen killed. "Palestinians now the view the PA'' as an Israeli lackey.
The anger is palpable. Newly printed martyrdom posters are again ubiquitous in Nablus's Old City and downtown, while tens of thousands of angry mourners over the weekend called for revenge and an end to cooperation between the Israeli and Palestinian security forces.
A new wave of violence would threaten prospects for resurrecting peace negotiations and undermine an economic revival throughout the West Bank this year. But for all the frustration, the calm appears more robust than the desire to retaliate.
---