Burj Dubai: World's tallest building short on prospective tenants
The tallest building in the world, half-mile-high Burj Dubai, opened today. But the tower is unlikely to fetch the high prices investors paid in 2004.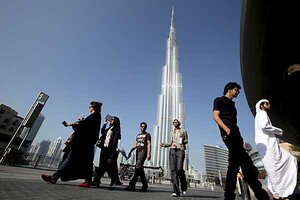 Ahmed Jadallah/Reuters
Dubai, United Arab Emirates
The Burj Dubai (or "Dubai Tower), the world's tallest building set to open Monday evening, brings another icon of prestige to Dubai, the flashy United Arab Emirates city-state that grew rapidly this decade thanks in part to a real estate boom.

It also stands as a reminder of the troubles Dubai faces since property values crashed last year.

The half-mile-high tower is "serving its purpose to create additional publicity on Dubai," says John Sfakianakis, chief economist at Banque Saudi Fransi-Credit Agricole Group based in Riyadh, Saudi Arabia. But "filling the space of the tower will be a challenge in a market that has been facing downward pressure for the more than a year."

Investors signaled their ambivalence about the skyscraper's opening as the share price for its developer, Emaar, dropped 2.5 percent Monday after rising 8 percent the day before.

Emaar sold most of the tower's 1,000-plus units – many in just two days – back in 2004 when construction began and when real estate prices were soaring. At the peak of the boom in 2008, one square foot in the exclusive address went for 10,000 dirhams ($2,700).

Now, like property throughout Dubai, those prices have dropped by more than half, and could fall by another third.
Since many people bought their units as investments, rather than places to live, they now face the challenge of leasing out their space, let alone selling it for a profit.
Some analysts consider it good news that the skyscraper was completed at all – a sign of how low the real estate market has sunk. Stopping the flagship project, hyped globally over the past several years, could have scared investors even more about Dubai's prospects.

The Burj Dubai was "one of those too-big-to-delay projects." says Saud Masud, a real estate analyst at UBS based in Dubai. "This was too visible and strategic of an already committed project to pull back on. But would it have even launched if the market was half as bad as today? Probably not."
---
Follow Stories Like This
Get the Monitor stories you care about delivered to your inbox.