Israel successfully tests Iron Dome missile shield
Israel announced that Iron Dome, a locally designed short-range missile-defense system designed to shoot down Qassam and other rockets fired from the Gaza Strip and Lebanon, performed well in recent tests.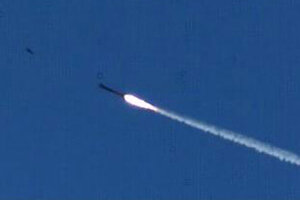 Defense Ministry/AP
Israel tested the use of its new Iron Dome antimissile system several times over the past few days, boosting the likelihood that it can neutralize or severely weaken the ability of Hamas and Hezbollah to launch successful missile strikes at the Jewish state.
In recent days, the short-range missile defense system that has been developed over the past 2-1/2 years by Rafael Advanced Defense Systems, a government-owned company, has been successfully tested against Qassam rockets, Grad rockets, and mortar shells. The system is expected to be fully operational in May.
But after Israel announced the successful tests on Wednesday, Hamas in Gaza appeared to answer on Thursday with a round of mortar fire from the Gaza Strip. At least 10 mortar shells hit Israel on Thursday.
The Iron Dome is designed to target the weapons of Israel's most significant regional enemies. These include Hamas's mortar shells and Qassam rockets, Hezbollah's Katyusha rockets, and even Iranian Fajr rockets, some of which Israel says have been smuggled into the Gaza Strip, according to Haaretz newspaper. The program is part of an improved, multilayered defense system that Israel has been developing over the past decade. This includes the Arrow system for long-range ballistic missiles and a still-under-construction medium-range system called Magic Wand.
---