Q&A: Is Yemen the next Afghanistan?
The Nigerian who allegedly tried to blow up a Detroit-bound airliner reportedly trained in Yemen with Al Qaeda, but the regional offshoot of Al Qaeda appears to have no ties with rebels and secessionists challenging Yemen's central government.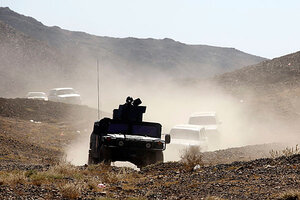 Khaled Abdullah/Reuters
What is Al Qaeda in the Arabian Peninsula?
Al Qaeda in the Arabian Peninsula (AQAP) is an offshoot of Al Qaeda that operates in Saudi Arabia and Yemen. The group was formed in January 2009 when the branches of Al Qaeda operating in Yemen and Saudi Arabia joined under the leadership of Nasser Abdel Karim al-Wahishi, a Yemeni national who is suspected of having close ties with the Al Qaeda network led by Osama bin Laden.
AQAP's organization is thought to be largely based in the eastern Yemeni provinces of Abyan and Shabwa, with some cells suspected of operating in the oil producing province of Marib.
The Al Qaeda in Yemen organization claimed credit for the September 2008 bombing of the US Embassy in Sanaa in which 10 Yemeni guards and four civilians were killed.
AQAP claimed credit for two suicide attacks in Yemen in 2009. AQAP launched its first attack outside Yemen in August 2009 when a suicide bomber targeted Saudi Arabia's head of internal security, Prince Muhammad bin Nayef. AQAP claimed credit for the recent attempted bombing of the Northwest Airlines flight from Amsterdam to Detroit.
---