Long the glue of Gaza, clans say Hamas is undermining tribal justice
Hamas is pressuring clan chiefs and local leaders to rule in accord with Islamic law, which often contradicts the tribal system of pay-offs.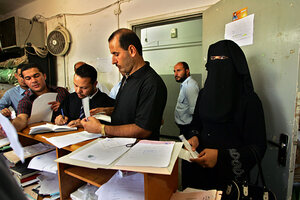 NEWSCOM/FILE
The residents of Gaza have a name for the period of tribal lawlessness that plagued their impoverished territory between Israel's withdrawal in 2005 and the Hamas takeover of 2007. Marred by rampant tit-for-tat murders, kidnappings, theft, and checkpoints run by armed clans, Gazans call these years ayam al-fowda, or the "days of chaos."
Those days are gone, however, after 2-1/2 years of strong Hamas rule successfully disarmed the territory's rival clans – made up of just one or sometimes several extended families – and restored order again to Gaza's streets.
But some of the same families responsible for much of Gaza's violence before the Hamas takeover say the Islamist movement has since used crime control as a pretext to influence the clans' unique system of tribal law – an ancient oral code experts say often contradicts Hamas's own version of Islamic justice – by appointing pro-Hamas clan chiefs and pressuring local leaders to issue Islamic-style rulings.
Hamas officials say clan leaders, referred to locally as mukhtars, are free to practice their own methods of reconciliation, as long as the rule of law is respected and justice is served. But any overt politicization of the chiefs, historically seen as societal mediators in Gaza, may end up threatening the independence of a system experts say has regulated Gazan society at the grass-roots for centuries.
---