Baghdad rocked by triple car bombings ahead of March elections
The coordinated attack in Baghdad today targeted three well-known hotels, including one often frequented by foreign journalists. Many Iraqis say the attacks are an attempt to undermine the ruling parties ahead of March elections.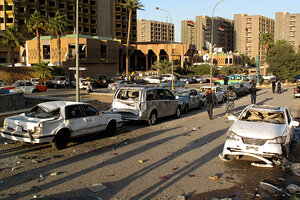 Saad Shalash/Reuters
Bombings at three of Baghdad's most popular hotels killed more than 30 people on Monday in what appeared to be the latest round of coordinated attacks aimed at destabilizing the Iraqi government.
One of the attacks, an apparent suicide car bomb, took place inside the compound surrounding a hotel where many Western journalists are based.
Witnesses said gunmen on the main road outside the Hamra hotel began firing at security guards manning the checkpoint leading to the hotel compound and then drove a pickup packed with explosives past the security barrier.
Security guards manning the checkpoint shot the driver dead just before the truck detonated on the street directly outside the hotel.
"I saw a man who started shooting fire at the guards and then I heard them shoot back and then the explosion happened," says Dhia al-Nouri, who owns a water treatment shop near the security checkpoint.
Iraqis link bombings to March elections
The bombings are the latest in a series of attacks aimed at government ministries and other high-profile targets. The Iraqi government blames the attacks on Al Qaeda in Iraq extremists with Baathist ties. The Iraqi government earlier in the day announced it had executed Ali Hassin al-Majid, known as Chemical Ali, who had received four death sentences for his campaigns against Iraqi Kurds and Shiites during Saddam Hussein's regime.
Iraqis in the street though widely believe the attacks are tied to parliamentary elections scheduled for March – an attempt by political parties to destabilize ruling parties and gain votes.
---