View from Mt. Doud: Saudi Arabia says offensive against Yemen rebels over
Saudi Arabia took a group of reporters to what had recently been a raging front line with the Shiite Houthi rebels of Yemen. The Kingdom's defense minister said the Houthi's have been repelled from Saudi Arabia and that they are now an "internal problem" for Yemen.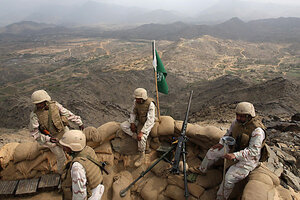 Hassan Ammar/AP
Saudi Arabia's deputy defense minister Wednesday rejected Yemeni rebel claims that they had voluntarily withdrawn from Saudi territory, saying they had "been forced out" by the Saudi military.
Prince Khaled bin Sultan said the border area had been "cleansed" of Yemeni rebel positions, but that snipers continued to infiltrate and attack Saudi troops.
The prince's remarks were the first official Saudi response to a statement Monday from the Yemeni rebel leader saying that his forces had withdrawn from Saudi territory and were offering a cease-fire in the almost three-month-old conflict.
Prince Khaled spoke to reporters after reviewing a parade formation of several hundred Saudi infantry, paratroopers and artillerymen in a dusty, open field several miles from the Yemen-Saudi border near the town of Kouba in the southern province of Jizan.
Earlier, journalists were driven to the top of Mt. Doud, a peak about a mile from the border that was seized by the rebels in mid-November and retaken by the Saudis a week ago, according to a senior Saudi military officer.
Exploding mortars and occasional gunshots could be heard in the distance along the border, and Saudi military officers said that was fighting between Yemeni forces and the rebels, known as Houthis.
Today's day-long visit to the border area was the first one organized by the Saudi government that included foreign press since the conflict broke out in early November. The Yemeni government has also restricted journalists' access to the fighting.
---