Iran widens journalist crackdown before demonstrations
Iran has stepped up arrests and told Iranian journalists that they'll be dealt with as 'spies' if they work for foreign news outlets, in an apparent attempt to tighten information flows ahead of Green Movement protests scheduled for Thursday.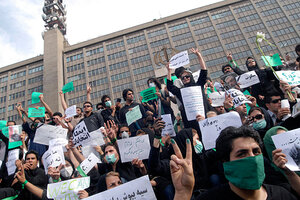 Reuters/File
An Iran military official condemned all Iranian journalists working for foreign media as "spies" and called for them to be "dealt with in the harshest way possible" in the run-up to expected mass demonstrations on Thursday.
 Brig. Gen. Masoud Jazayeri said that working with foreign media should be declared a crime, according to the ISNA news agency. He said the foreign press is "acting as a control room for a soft coup d'état."
General Jazayeri's comments were the latest in a series of measures taken to stifle dissent and public communications about Iran's political situation as the country turns towards the anniversary of the 1979 revolution on Thursday. Supporters of the opposition Green Movement have promised to be out in force on Thursday. On Wednesday, the Iranian police said a number of protest organizers have been arrested.
A renewed wave of arrests has increased the number of imprisoned Iranian journalists to 47, the Committee to Protect Journalists said.
"Iran is No. 1 in the world in jailing journalists by a long shot," said Mohamed Abdel Dayem, the Middle East and North Africa program coordinator for the Committee to Protect Journalists in New York. "The next highest is China and they're in the mid-20s even though they have a population of 1.3 billion."
---