Kidnapping of American in Iraq sparked by faltering reconciliation talks
The kidnapping of an Iraqi-American working with the US military in Iraq appears to have been sparked by a faltering reconciliation effort to bring a militant Shiite group into the political process, US officials say.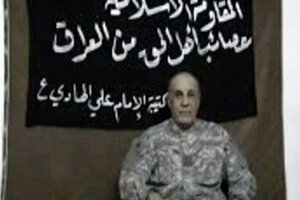 APTN/AP
The kidnapping of an Iraqi-American military contractor in Baghdad appears to be the work of a splinter group in response to a breakdown in political reconciliation talks in Iraq rather than a return to the high-profile kidnappings of Westerners, according to US military officials and analysts.
Issa Salomi, a linguist working on an Army project to map tribal structures, was seized on Jan. 23 while visiting relatives in the Karrada neighborhood of Baghdad, according to the US military. A Shiite extremist group, The League of the Righteous, Asaib Ahl al-Haq, (AAH) last week released a video of Mr. Salomi dressed in a US Army uniform and calling for the release of insurgents who fought American forces - and the expulsion of former Blackwater security guards..
It was the first known abduction of a US citizen since Iraqi-American US Army specialist Ahmed al-Ta'ie, also a linguist, was seized while visiting relatives in the same area of Baghdad in 2007. Al-Ta'ie, since promoted to the rank of sergeant, has never been found. The most recent abduction has raised fears that insurgent groups might be reviving the tactic of kidnapping foreigners, once commonly carried out by Al Qaeda in Iraq and other groups.
---