Dubai police point to Israel and Mossad in Hamas assassination
The Dubai police chief said Thursday he was '99 percent certain' that Mossad, the Israel intelligence agency, was behind the assassination of Hamas official Mahmoud Mabhouh in the emirate in January.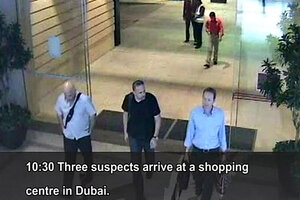 Dubai Police/Reuters
The Dubai police all but accused Israel on Thursday of organizing the sensational murder here last month of senior Hamas figure Mahmoud Mabhouh, heaping even more pressure on the country over the increasingly high-profile assassination.
"Our investigations reveal that [Israeli spy agency] Mossad is involved in the murder of al Mabhouh. It is 99 percent, if not 100 percent, that Mossad is standing behind the murder," Dubai Police Chief Lt. Gen. Dahi Khalfan Tamim told The National newspaper.
"All elements strongly indicate the involvement of the Mossad," he told another local paper, Gulf News, on Wednesday.
Tamim did not elaborate on any evidence that might have led to this conclusion.
Earlier this week, Dubai, a member of the United Arab Emirates (UAE), released closed-circuit video footage of what it described as an 11-member assassination team. Dubai said the footage shows the assassins wearing wigs and pretending to be tennis playing tourists as they tracked Mr. Mabhouh at his hotel, where he was murdered. Dubai also released pictures of the alleged assassins and the European passports they traveled on, most of which have since been called forgeries by Ireland and Britain.
---