Iran arrests top Sunni militant Abdolmalek Rigi
Iran said it arrested top Sunni militant Abdolmalek Rigi, who claimed responsibility for a number of terrorist attacks inside Iran. Tehran claims Mr. Rigi received US support.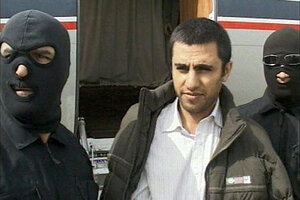 Iran has arrested its most wanted fugitive, a Sunni rebel leader linked to a number of high-profile attacks and alleged to have Western backing, in what Tehran on Tuesday called "a great defeat for the US and UK."
Abdolmalek Rigi, militant leader of the Jundallah (Soldiers of God) which had claimed a series of attacks against civilians and soldiers in Iran's southeastern Sistan-Baluchistan Province from bases in Pakistan, was shown by Iranian state TV being led off a small plane by masked police.
Iran's Intelligence Minister Heydar Moslehi claimed that Rigi had been on a US military base in Afghanistan less than 24 hours before the plane he was traveling on was forced to land in Iran during a flight from Dubai to Kyrgyzstan.
"Our anonymous soldiers were able to manage his whereabouts and they followed him everywhere he went, and through this he was arrested," Mr. Moslehi said in Tehran. He showed a photograph of Rigi – with his usual beard shaved off – which he claimed was taken at a US base.
---