Israel names two biblical tombs in West Bank heritage sites
Israel named the Tomb of the Patriarchs and Rachel's tomb in the West Bank heritage sites on Monday. Both biblical tombs are in Palestinian cities, and the decision brought warnings of violence and protests on Tuesday.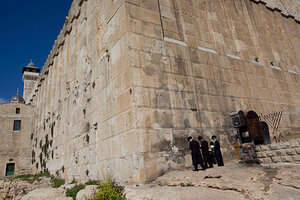 Bernat Armangue/AP
Palestinian leaders from both Gaza and the West Bank warned Tuesday of possible violence in response to the Israeli government's decision to include two biblical tombs in Palestinian cities on a list of Israeli national heritage sites.
Palestinian President Mahmoud Abbas told the Belgian parliament in Brussels that the move is a ``serious provocation which may lead to a religious war.'' Hamas leader Ismail Haniyeh, meanwhile, called on Palestinians in the West Bank to launch a new uprising, or intifada, in response to the Israeli plan.
The warnings came as dozens of Palestinian protesters threw rocks at Israeli soldiers and burned tires for a second day in the city of Hebron, the site of the Tomb of the Patriarchs, also known as the Cave of the Patriarchs. In Bethlehem, where Israel controls a site in which the biblical matriarch Rachel is said to be buried, merchants observed a strike.
The uproar over the government decision highlights the potential of even a symbolic declaration about contested holy sites to threaten months of relative calm in the West Bank. Both Israel and the Palestinians blame the other side for the year-long impasse in restarting peace talks. Israeli Prime Minister Benjamin Netanyahu included the two controversial sites at the "national heritage" list at the behest of the Shas party, one of his right-wing allies.
---