Tensions spike after Israel names two West Bank sites to national heritage list
Tensions between Israel and Palestinians continued to rise Wednesday, following Israel Prime Minister Benjamin Netanyahu's decision to add two West Bank sites to its national heritage list.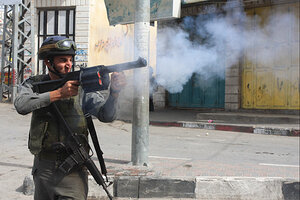 Nasser Shiyoukhi/AP
Tensions continued to skyrocket Wednesday between Israel and the Palestinian Authority over Israel's decision to put two religious sites in the West Bank on its new heritage preservation list.
Israelis President Shimon Peres tried to rein in the rhetoric Wednesday, telling Robert Serry, United Nations Special Coordinator for the Middle East Peace Process, that Israel wasn't interested in "monopolizing" the sites and that it did not need "artificial conflicts" sparked by a "misunderstanding."
"Israel will continue to grant freedom of worship to every religion in every holy place," Mr. Peres said.
Clashes in the West Bank continued for the third straight day on Wednesday, following Sunday's decision by the Israeli government to add the two sites to list. In Hebron, clashes erupted between Palestinian youths and Israeli forces. Several Palestinians were injured, including a young boy and his mother, according to the Maan news agency in Ramallah.
An Israeli military spokesman said Palestinians hurled burning tires and rocks at soldiers, and that the rioters were dispersed. He said he could not confirm the injuries. An Israeli driving on a West Bank road was injured by a stone thrown at his car by local Palestinians, Israel Radio reported late Wednesday.
---