Hamas assassination: Are Dubai police getting investigation right?
The Hamas assassination in Dubai and accusations from police there that a vast and coordinated team of hit men was involved has been embarrassing for a country that relies on a safe atmosphere to lure tourists and businessmen. But analysts say Dubai is getting some things right.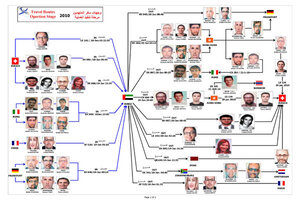 Dubai Police/Reuters
Letting a 26-member hit squad swoop into town, kill a man, and escape the next day might have left Dubai's security forces feeling like they'd been caught sleeping on the job.
The second largest member of the United Arab Emirates (UAE) has, however, earned praise from some security analysts for the amount of surveillance they have in place and for their ongoing investigation into the Jan. 20 murder of senior Hamas official Mahmoud al-Mabhouh.
As host to visitors and residents from scores of nationalities, Dubai has also gotten credit for balancing the need for tight security with relative openness.
Playing host to Mr. Mabhouh's assassination "doesn't necessarily reflect badly on Dubai security. This is not a case they are usually confronted on," says Christian Koch, an analyst at the Gulf Research Center based in Dubai.
"I think they basically do a good job of keeping security in the country," he continues. "But they try to keep it very moderate in the sense of it not being intrusive."
---