Before Iraq election, Arab and Kurd tensions soar in the north
Ahead of the March 7 Iraq election, tensions between Arabs and Kurds are soaring after an incident involving Kurdish troops and forces loyal to the Arab governor of Ninevah. Kurdish President Massoud Barzani told the Monitor that a warrant will soon be issued for the governor's arrest on a kidnapping charge.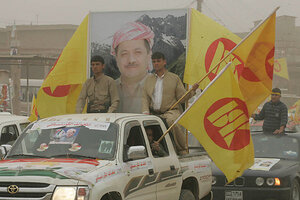 Ako Rasheed/Reuters
In a sign of heightened Arab-Kurd tension along a disputed boundary just days from Iraq elections, the president of Iraqi Kurdistan says the governor of the adjoining Arab-majority province will be arrested if he enters Kurdish-controlled areas.
In an interview with The Christian Science Monitor at his mountaintop headquarters in northern Iraq, Kurdish President Massoud Barzani described Ninevah governor Atheel al-Nujaifi as a "criminal" and said a warrant would be issued for his arrest in connection with an incident this month involving US forces.
He also said Nujaifi had failed to secure the provincial capital of Mosul. Mr. Barzani offered to bring up to 2,000 Christian university students from the troubled city to Kurdistan to continue their studies. At least eight Christians have been killed in the last two weeks in Mosul in the latest wave of attacks on minorities.
"To us he is a criminal because he has kidnapped our own people and according to the judicial system there must be an order to arrest him," Mr. Barzani said in the interview Monday. He said a warrant would be issued by a municipal court in Talkeef, the site of a incident last month that shook US attempts to normalize relations between Kurdish and Arab forces along the hundreds of miles of disputed internal borders.
---