Dubai Hamas assassination: Police add suspects, say two alleged killers went to US
Dubai Police Chief Dahi Khalfan Tamim told the Monitor that he believes that all but two of the Western suspects involved in the Dubai Hamas assassination are in Israel, and that the remainder have made their way to the US.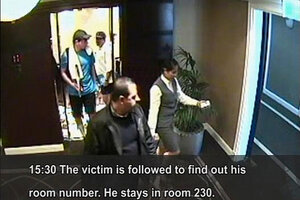 Dubai Police/Handout/Reuters
Dubai, United Arab Emirates
Dubai Police Chief Dahi Khalfan Tamim, who is leading the investigation into the Dubai Hamas assassination, told the Monitor that most of the suspects are hiding out in Israel and that two more made their way to the US after the Jan. 19 murder of Hamas official Mahmoud al-Mabhouh.
General Tamim also added a new suspect to the list of members of an alleged hit team traveling on Western passports that his office says was dispatched by Israel's Mossad intelligence agency (the previous total was 26). Over the weekend, the Dubai police also said they'd arrested a third Palestinian suspect. Previously, they'd said two members of Fatah, Hamas's chief rival, were in custody for allegedly helping the assassins.
Earlier on Monday, Tamim said that "all" of the suspects were in Israel, but he amended his comments later when he spoke with the Monitor to say he believes two are in the US. He did not provide the names of the two or why he's convinced of the whereabouts of any of the suspects.
---