IAEA says it can't confirm Iran nuclear program is peaceful
The IAEA, the UN nuclear watchdog, said Monday that it can't guarantee the Iran nuclear program is exclusively for peaceful purposes, citing insufficient cooperation from the Islamic Republic.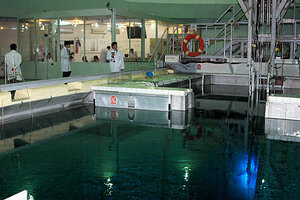 Newscom
The UN's top nuclear official on Monday said the Islamic Republic was not providing the "necessary cooperation" to guarantee that the Iran nuclear program is for exclusively peaceful purposes.
The International Atomic Energy Agency (IAEA) assessment comes as Iran has been stepping up uranium enrichment levels and expanding its nuclear fuel cycle plans in recent weeks, moves that have prompted President Barack Obama to warn of tougher sanctions against Iran.
"The agency continues…to verify the non-diversion of declared nuclear material in Iran, but we cannot confirm that all nuclear material in Iran is in peaceful activities because Iran has not provided the agency with the necessary cooperation," Yukiya Amano, the new IAEA chief, told the agency's governing board at the start of its meeting in Vienna this week.
Mr. Amano asked for "clarification of issues related to possible military dimensions to Iran's nuclear program," and that Iran make "full implementation of its safeguards agreement and its other obligations [a] matter of high priority."
The tougher IAEA line comes as momentum builds in Washington to impose more sanctions upon Iran – a "pressure track" to add to three sets of UN Security Council sanctions and an array of US and European measures that already target Iran.
---