Will Israel heritage sites spark next Palestinian intifada?
The declaration of two biblical tombs in the West Bank as Israel heritage sites last week sparked clashes. Though Monday was quiet, some fear a new Palestinian intifada in response.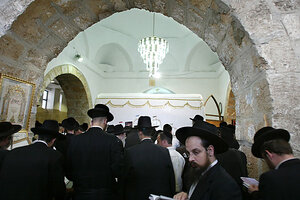 Menahem Kahana/AFP/Newscom/File
Amid spreading Palestinian protests against Israel's decision to declare shrines in two West Bank cities as Israel heritage sites, the Palestinian cabinet held a solidarity meeting Monday in the city of Hebron near one of the sites while some here worried about a new Palestinian intifada.
Clashes on the Temple Mount plaza in Jerusalem's Old City Sunday capped a week of violence since the declaration of Hebron's Tomb of the Patriarchs and Rachel's Tomb in Bethlehem as official Israel heritage locations.
Critics of Prime Minister Benjamin Netanyahu say the decision recalls controversial acts by Israel a decade ago near holy sites that helped spark waves of violence – most notably the violent demonstrations in 2000 after Ariel Sharon toured the Temple Mount, which deteriorated into the second Palestinian uprising, or intifada.
But will the dispute spark fresh conflict?
---