Iraqi Christians attacked ahead of Iraq election
Killings of Iraqi Christians in the northern city of Mosul have sparked an exodus from the Arab-controlled city to Kurdish areas. The number of Iraqi Christians attacked has spiked in the run-up to elections, scheduled for Sunday.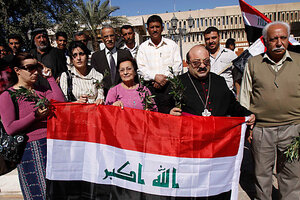 Atef Hassan/Reuters
In the living room of a cousin's house, Vivian al-Dahan and her brothers pour out the details of how their father was kidnapped and killed a week ago in Mosul. Their mother, suddenly a widow, keeps trying not to cry.
Adnan Hannah al-Dahan was the first of at least eight Iraqi Christians killed in the northern city in the past two weeks. The murders have led to an exodus of one of the troubled city's oldest minorities and fears that the attacks will keep Christians from voting in the Iraq election, scheduled for next week.
Iraq's Christian community is one of the world's oldest. But since the 2003 invasion, church bombings, kidnappings, and assassinations have scattered the community. Last year, Human Rights Watch estimated that two-thirds of Iraqi Christians have fled their homes since the war began.
The abduction that ended in Mr. Dahan's death was the second time he had been kidnapped. Two years ago, he was abducted from his corner shop, beaten with a rifle, and stuffed in the trunk of a car. He was kept wrapped in chains under a stairwell until the family borrowed enough money from neighbors to pay a $5,000 ransom.
"They said, 'you are Christian – you have to pay a tax,' " says Vivian. The family didn't go to the police because they said the kidnappers would have blown up their house.
---