Australia sends police to Israel over Dubai assassination
Australian police arrived in Israel on Wednesday to investigate identity theft of dual nationals in connection with the Dubai assassination widely blamed on Israel's Mossad intelligence agency. The use of forged passports has provoked a stern response, but is unlikely to jeopardize relations.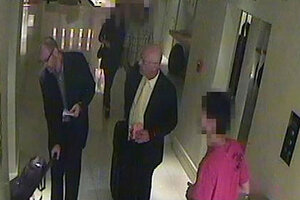 Dubai Police/Reuters
An Australian police team arrived in Israel on Wednesday to look into the misuse of three dual citizens' identities in connection with the January assassination of a Hamas official in Dubai.
The investigation into the Dubai assassination comes as part of Australia's stern response to the fraudulent use of its passports by suspected agents of Israel's Mossad intelligence agency in the killing of Mahmoud al-Mabhouh. Last week Australian leaders condemned the forgeries in unusually robust language.
But while ties with Israel have been strained, the traditionally close relationship between the two countries is likely to survive intact, foreign policy experts believe.
When it comes to Israel, Canberra takes its lead from its major ally, the United States. Moreover, analysts say, the government would not risk upsetting Australia's relatively small but influential Jewish community – particularly in an election year.
"I suspect the relationship will get chillier for a while, but it will be a low-level chill, and hardly anyone will notice," says Matthew Gray, a Middle East expert at the Australian National University (ANU).
---