Dubai assassination: Dubai wants Israel Prime Minister Netanyahu behind bars
Lt. Gen. Dahi Khalfan Tamim, the man leading the investigation into the Dubai assassination of Hamas figure Mahmoud al-Mabhouh, has called for the arrest of Israel Prime Minister Benjamin Netanyahu.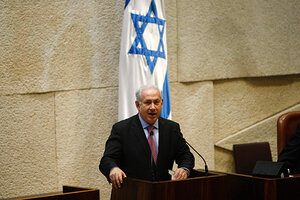 Ronen Zvulun/REUTERS
Dubai, United Arab Emirates
The Dubai police chief plans to seek the arrest of Israel Prime Minister Benjamin Netanyahu for the murder of Hamas leader here Mahmoud al-Mabhouh, Al Jazeera reported on Wednesday.
The warning adds to the series of threats that Lt. Gen. Dahi Khalfan Tamim has lodged in recent days against Israel, whom he said "insulted" the United Arab Emirates (UAE) by allegedly carrying out the Jan. 19 assassination here. Dubai, a trade, tourism and banking center is the second largest of the Emirates.
While a warrant may have little practical effect – Israeli leader Benjamin Netanyahu does not need to worry about being handcuffed imminently – it is likely meant to heighten the pressure and public anger against his government.
Israeli officials have so far not commented on the call for Mr. Netanyahu's arrest.
On Wednesday, Australian police officials arrived in Israel to investigate the use of three Australian passports by the alleged assassins. The names on the passports are shared by three Australians who immigrated to Israel and Australian officials have said they suspect the three were victims of identity theft.
---