In Iraq, the Methboub family waits – and copes
The Methboub family, which the Monitor has followed since 2002, work to free a son from jail and anguish over a daughter's soured marriage. They had little hope Sunday's election in Iraq would change their lives significantly.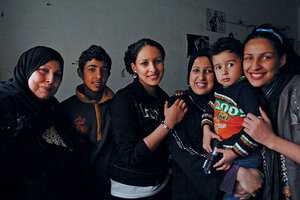 Scott Peterson/Getty Images
Expectations of good news have rarely been higher in the poor Iraqi household of Karima Selman Methboub, whose son Ali is due in coming weeks to be released from prison after more than 1-1/2 years.
The widowed mother of eight children – whose Baghdad family dramas the Monitor has followed since 2002, when Saddam Hussein was still in control – has done everything in her power to bring home her son, who even police and court officials have told her was wrongly arrested during a joint US-Iraqi police raid on a coffee shop.
Ali's saga began, according to what he's told his family, with beatings, burnings, and torture to force a false confession of kidnapping and a killing – supposedly of a cousin, who is still very much alive. (The Monitor could not independently corroborate his account, but it has reported on the culture of abuse that persists in Iraqi prisons.) The saga has devolved into a less violent but endless game of uncertainty about when he might be released, says the family, first contacted by Ali on phones smuggled into the jail. Later, they were allowed visits.
The family has paid thousands of dollars in bribes to police and judicial officials, lawyers, and others who promised – fruitlessly – to speed his release. Gold from one daughter's marriage and Methboub's own thinning stock was sold.
"This is what I am praying for, that God will set him on the right path [to freedom]," says Methboub, her eyes tearing up at the thought of her oldest son still behind bars. "Everyone knows he is a poor young man, and innocent."
---