Tehran lobbies China against new Iran sanctions
Tehran urged China not to bend to US pressure for new Iran sanctions, which Vice President Joe Biden strongly supported in meetings with top Israel leaders today.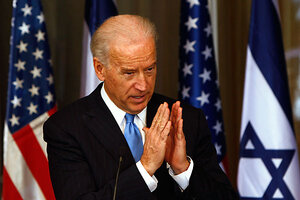 Ronen Zvulun/Reuters
Tehran stepped up its diplomatic push to avoid a new set of sanctions against Iran on Tuesday, calling on China not to buckle under pressure from a US-led effort to slap a fourth round of United Nations Security Council sanctions on Tehran over its nuclear program.
"China is a great country which enjoys enough power to pursue its own decisions independently without being pressured by America," Iran's Foreign Ministry spokesman Ramin Mehranparast said of the Islamic Republic's closest trading partner. "Of course our expectations from such a big country is the same … to pursue its foreign policies independently and just observe its own national interests.
Iran's diplomatic nod toward Beijing comes as US Vice President Joe Biden stated in Israel Tuesday that Washington was "determined to prevent Iran from acquiring nuclear weapons, and we're working with many countries around the world."
---