Lebanon resumes defense talks on Hezbollah's military wing
The most powerful politicians in Lebanon resumed discussions on national defense, with questions of how to rein in Shiite political party Hezbollah's powerful military wing on the table.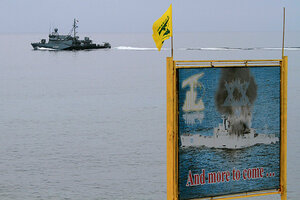 Mohammed Zaatari/AP
Lebanon's top politicians have resumed a series of round-table discussions to devise a national defense strategy, at the heart of which is finding a compromise over the militant Shiite Hezbollah's powerful military wing.
Although Lebanon is enjoying a taste of political stability and a buoyant economy after several years of internal violence and a war with Israel in 2006, the rival political factions of this tiny Mediterranean country are still divided over Hezbollah's continued armed status.
The dispute is underlined by persistent fears here that another devastating war is brewing between Hezbollah and Israel, possibly as an outcome of intensifying efforts to forge an international consensus to curb Iran's nuclear ambitions. Given the rising tensions and recent strengthening of an Iran-led alliance in the Mideast, a war between Hezbollah and Israel could expand to become a regional conflagration involving Iran and Syria, both of which support the Lebanese Shiite party.
"We have managed to put ourselves on the frontline of the main critical issue that will dominate the international agenda for the next three or four years," says Paul Salem, director of the Carnegie Endowment's Middle East Center in Beirut.
---