Joe Biden gives Israel bear hug – and tough love
Israel is America's closest friend, US Vice President Joe Biden said in an emotional speech at Tel Aviv University today. But he also said sometimes it takes a friend to deliver the hardest truth – that the status quo is untenable.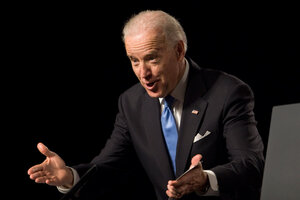 Bernat Armangue/AP
Despite two days of public friction between the US and Israel over a Jerusalem building project, Vice President Joe Biden today delivered an emotional speech laden with admiration for the Jewish state.
Some years ago "I said if I was Jew, I would be a Zionist," Biden said, telling the audience at Tel Aviv University of his affinity for Israel since childhood. "I was reminded by my father you need not be a Jew to be a Zionist."
Those remarks, given at the tail end of Biden's five-day trip to the region, were part of a big American bear hug unparalleled since the Bush administration – and sure to raise question marks throughout the Arab world about the ability of the US to be a neutral mediator in peace talks. But they were primary aimed at bolstering the leverage of the administration of President Barack Obama to push Prime Minister Benjamin Netanyahu to make politically difficult choices on peace negotiations with the Palestinians and on confronting Iran.
---