Netanyahu faces 'moment of truth' after US slams Israel 'insult'
Israel Prime Minister Benjamin Netanyahu is trying to calm the nation after a series of US officials have called last week's announcement to allow Israelis to build 1,600 homes in East Jerusalem an 'insult' to the US.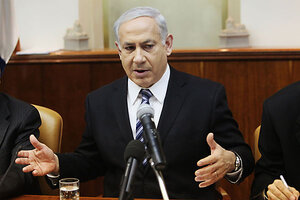 Jim Hollander/AP
Israeli Prime Minister Benjamin Netanyahu found himself on the defensive after an unprecedented public assault by US officials over the weekend, as the diplomatic furor over new building in Jerusalem escalated.
With a succession of US officials calling the revelation of a project to build 1,600 homes in an area claimed by the Palestinians an "insult," Netanyahu may have to decide between allowing the open sore with Israel's most important ally to fester or potentially alienating right-wing allies in his coalition government.
"I think that Netanyahu is at a moment of truth," says Gideon Doron, a political science professor at Tel Aviv University. "He has to choose whether or not he wants to ignite the forces for peace, or whether he'll go against the US and play for time. He can't do that. It's suicide."
Where the Biden trip went wrong
On Friday US Secretary of State Hillary Rodham Clinton delivered a 43-minute scolding of Israel for its behavior during Vice President Joe Biden's visit to the region last week.
---