Israel crisis: Taking cue from US anger, Mahmoud Abbas digs in heels
Emboldened by the Israel crisis with the US over East Jerusalem building plans, Palestinian Authority President Mahmoud Abbas is again insisting on 'a complete cessation of settlement activities' before renewed negotiations.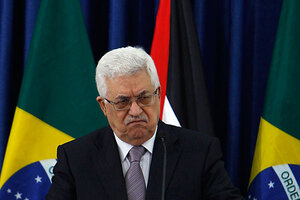 Mohamad Torokman/Reuters
With Israel-US ties in crisis and tensions subsiding after the worst riots in Jerusalem in years, Palestinian Authority President Mahmoud Abbas dug in his heels on peace talks on Wednesday.
Sharing US anger over the announcement of a 1,600 home building project in East Jerusalem during Vice President Joe Biden's visit last week, Abbas retreated to a prerequisite that he dropped just a week ago in order to give a chance to a US initiative for indirect negotiations.
"Israel must implement … a complete cessation of settlement activities in the West Bank and East Jersualem to go to negotiations,'' he told reporters in a joint-appearance with the president of Brazil, according to the official Palestinian news agency WAFA.
IN PICTURES: Israeli settlements
In the zero-sum maneuvering to return to the peace table, the blunt language and angry messages from US officials over Israeli building in the sections of Jerusalem claimed by Palestinians as the capital of a future state has proven a momentary boon to Mr. Abbas.
"The Palestinian leadership probably feels they are on the moral high ground right now," said Sam Bahour, a Palestinian businessman and political commentator in Ramallah.
---