Iraq election: Will Prime Minister Maliki lose his job?
With 80 percent of the Iraq election votes counted, Prime Minister Nouri al Maliki is neck and neck with former Iraqi Prime Minister Ayad Allawi. Even if Maliki wins the popular vote, he may not be able to hold together a coalition government.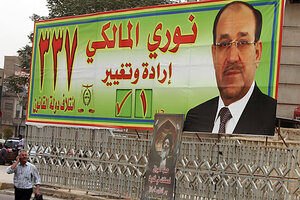 Karim Kadim/AP
Nearly half a million people voted for Iraqi Prime Minister Nouri al Maliki in Baghdad, making him by far the leading candidate in the province where the most seats are at stake, according to partial results from this month's election in Iraq.
Those hundreds of thousands of supporters in the capital, along with many thousands more who voted for Maliki's coalition in outlying provinces, could be in for a jolt in coming months if his powerful enemies succeed in derailing his bid for a second term as prime minister
Especially now that he's neck and neck with a secular rival, former interim Prime Minister Ayad Allawi, Maliki's chances of retaining his premiership are dubious.
Maliki has no outright majority, no mandate and precious little support from factions that would be the key to his survival. The campaign against him is so robust that members of his own State of Law coalition haven't ruled out dumping him as the prime minister nominee in order to lure partners that would give them a dominant voice in the next government, according to interviews with Maliki's allies, opponents and independent observers.
Even if Maliki pulls off a second term over the objections of rival parties, his opponents have said privately that they'd block his efforts in parliament and open up potentially embarrassing corruption inquiries, strategies that could lead to an even weaker and more violent Iraq just as U.S. forces prepare for a full withdrawal by the end of next year.
---