Hamas fails to rein in Gaza rocket attacks, prompting Israel strike
After Gaza rocket attacks resulted in the first fatality since last year's war, Israeli warplanes carried out retaliatory air strikes on at least six targets overnight. Hamas is struggling to contain unaffiliated militants in Gaza.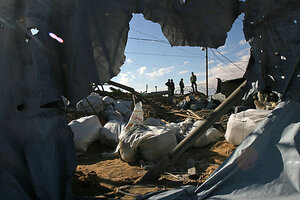 Eyad Baba/AP
Israeli warplanes carried out air strikes on at least six targets across the Gaza Strip on Friday morning, just hours after a rocket fired by Palestinian militants killed a foreign migrant worker in southern Israel – the first fatality from a rocket attack since last year's Gaza war.
There were no reported casualties from today's air strikes in Gaza, which, according to an Israeli military spokesman, targeted three smuggling tunnels in the southern Gaza Strip town of Rafah, two tunnels the army said were designed to infiltrate Israel, and a metal workshop near Gaza City.
But the raids and deadly rocket fire that prompted them are becoming a growing problem for Hamas, which rules Gaza and has largely adhered to a de facto cease-fire with Israel but has struggled recently to rein in local extremist groups who lambast the movement for what they say is its increasingly moderate stance.
"These types of attacks from other groups in Gaza, like the one on Thursday, anger Hamas, because Hamas wants to show the entire world they are in control here," says Gaza-based political analyst, Haidar Eid. "Hamas wants to govern and rebuild, but it's not giving an alternative to the other groups who want to continue to fight Israel."
Jihadist group blames Jerusalem clashes
A previously unknown jihadist group, Ansar al-Sunna, claimed responsibility for Thursday's rocket attack, saying in a statement that "the jihadist mission came in response to the Zionist assaults against the Ibrahimi and al-Aqsa mosques and the continued Zionist aggression against our people in Jerusalem."
---