Netanyahu hits defiant note ahead of visit with Obama
Two days before he meets President Obama in Washington, Israel Prime Minister Benjamin Netanyahu told his cabinet Sunday that 'building in Jerusalem is the same as building in Tel Aviv.'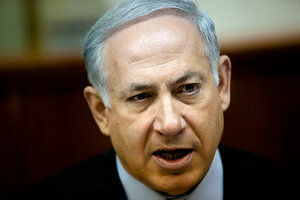 Uriel Sinai/Reuters
Israel Prime Minister Benjamin Netanyahu struck a somewhat defiant tone on Sunday when he made clear on the eve of an important trip to visit President Obama in Washington that he would not distinguish between building in Jerusalem – a source of strife in the United States-Israel relationship over the past two weeks – and building in the Israeli metropolis of Tel Aviv.
"Our policy on Jerusalem is the same policy followed by all Israeli governments for the last 42 years, and it has not changed. As far as we are concerned, building in Jerusalem is the same as building in Tel Aviv," Mr. Netanyahu told his cabinet at their weekly meeting Sunday.
Netanyahu was due to leave Israel Sunday night for Washington, where he will be the keynote speaker Monday at a conference put on by the American Israel Public Affairs Committee (AIPAC). On Tuesday, he will meet with President Obama.
---