Netanyahu says Israel won't budge on building in East Jerusalem
After returning from a contentious visit to the White House, Israel Prime Minister Netanyahu reiterated that Israel would not compromise on building in East Jerusalem. But many observers say he will have to move away from coalition partners who advocate a hard line.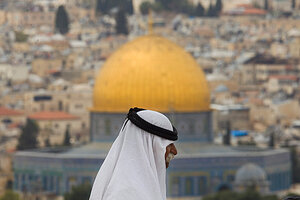 Bernat Armangue/AP
Returning from the United States to a swirl of speculation about political turmoil from Obama administration pressure for concessions to boost the peace process, Prime Minister Benjamin Netanyahu sought to mollify his allies.
The Israeli leader huddled with a group of seven top cabinet ministers to formulate another response to US demands, but reiterated he would not compromise on Jewish building in predominantly Arab East Jerusalem. The prime minister added that he has no plans to jettison his political allies, according to the daily Haaretz newspaper's website.
But Netanyahu's stance and President Obama's pressure have resulted in the worst public spat between the US and Israel in decades. At stake for Israel is a potential deterioration of ties with its most important ally.
IN PICTURES: Israeli settlements
IN PICTURES: The Israeli separation barrier: A West Bank wall
"There's no change in the prime ministers position regarding Jerusalem, which has been constant for the last 42 years,'' said a statement released by the prime minister's office.
---