Iraq election: Victorious candidates may be purged, boosting Maliki
As part of a de-Baathification purge, six candidates who won seats in the Iraq election may be removed. That would cost Iyad Allawi's bloc its narrow victory over incumbent Nouri al-Maliki.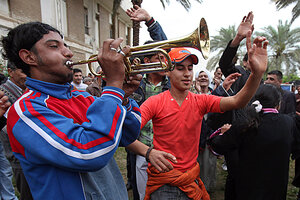 Karim Kadim/AP
Six winning candidates in Iraq elections will be stripped of their votes and lose their seats – which would cost secular politician Iyad Allawi's bloc its narrow victory – if a federal court upholds a broad purge of candidates who are suspected of past involvement with the late dictator Saddam Hussein's outlawed Baath Party, Iraqi officials said Monday.
The six winners are among 52 candidates who were disqualified just before the March 7 elections by Iraq's Accountability and Justice Commission, the controversial government body charged with "de-Baathification" efforts. Iraq's election commission allowed them to run, choosing to shelve the divisive matter rather than delay the elections. An Iraqi court will have at least two weeks to rule on the challenge.
'It's unfair to the voters'
If it succeeds, the effort to deny Allawi his bloc's slim victory could threaten hopes that the elections would pave the way to a new unity government, ease secular and ethnic tensions, and open the way for the Obama administration to speed the withdrawal of US combat troops from Iraq as it sends more to Afghanistan.
The latest push to disqualify the candidates comes after Allawi's Iraqiya bloc won a narrow victory over incumbent Prime Minister Nouri al Maliki's State of Law coalition. At least three of the winning candidates are on Allawi's slate, so Iraqiya would lose its two-seat lead over Maliki's bloc if a federal court sided with the Accountability and Justice Commission to strike the votes rather than removing the candidates and allowing substitutes from the same bloc to take the seats.
---