Hezbollah denies responsibility for truck bomb blast that killed Hariri
Sheikh Hassan Nasrallah, leader of the militant Shiite group Hezbollah, said Wednesday his group was not behind the 2005 truck bomb blast that killed Lebanon's former prime minister. Many fear instability if an investigating tribunal issues indictments in the Hariri assassination against Hezbollah officials.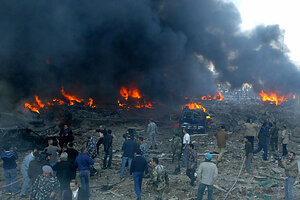 Mohamed Azakir/Reuters/File
The leader of Lebanon's militant Shiite Hezbollah confirmed for the first time late Wednesday that a tribunal investigating the murder of a former Lebanese prime minister has summoned several members of the party for questioning.
But Sheikh Hassan Nasrallah rejected accusations that his party had a hand in the assassination of Rafik Hariri in a February 2005 truck bomb blast, claiming that such allegations were intended to weaken the "resistance," a term used for Hezbollah's formidable military apparatus.
"We have been a target for years," he said in a live interview on the Hezbollah-owned Al-Manar television. "Destroying Hezbollah is a dream. The objective is to distort Hezbollah's image and pressure and intimidate the party."
Nasrallah's comments came in response to heightened speculation that the international tribunal investigating Hariri's murder has uncovered evidence implicating Hezbollah members and may issue indictments before the end of the year.
But if a court case goes ahead against Hezbollah, it could have dire consequences for Lebanon's internal stability, which lately has recovered from several years of political turmoil and violence in the aftermath of Hariri's assassination.
"If the tribunal issues indictments against senior Hezbollah officials, the [peaceful] phase that Lebanon is currently experiencing will almost certainly come to an end," says Elias Muhanna, a Lebanese political analyst and author of the influential Lebanese affairs blog Qifa Nabki.
The flurry of speculation about a possible indictment was prompted by the arrival in Beirut two weeks ago of a delegation from the tribunal, which is based in The Netherlands, to question several members of Hezbollah's security apparatus.
---