Israel silent on Obama's four-month building freeze in East Jerusalem
Officials in Israel refused to comment on a plan floated by the Obama administration for a four-month building freeze in East Jerusalem, according to a report in Haaretz. Analysts say the plan won't fly with Netanyahu's conservative coalition partners.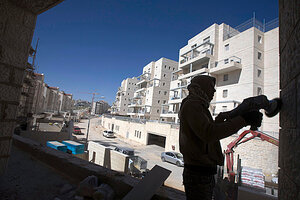 Baz Ratner/Reuters
President Barack Obama asked Israel to agree to put a four-month freeze on plans to pursue controversial construction projects in East Jerusalem, in return for enabling direct Israel-Palestinian peace talks to start, the Israeli newspaper Haaretz reported Wednesday.
The paper quoted an unnamed official in Jerusalem. Officials at the US Embassy in Tel Aviv were unavailable for comment.
A spokesman for Prime Minister Benjamin Netanyahu said that the prime minister's office had no comment on the proposal and could not confirm its veracity. "We won't we won't talk about it unless they do first," said spokesman Mark Regev.
---