Changing course, Fatah officials call for Palestinian protests against Israel
After years of muting Palestinian rhetoric of 'popular resistance,' senior officials in Fatah, which governs the West Bank, are calling for protests against Israel's settlement expansion and construction of its separation barrier.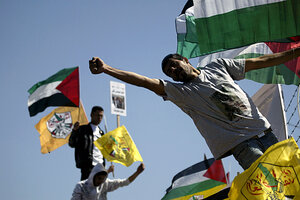 Majdi Mohammed/AP
Senior officials in Fatah, the mainstream faction of the PLO, have for several years taken a backseat approach to the Israeli-Palestinian conflict -- leaving negotiations to a few leaders at the top and demonstrations to the grass-roots activists on the street.
Now something is changing. This week, for the first time in years, senior members of the Fatah Central Committee – who provide a political backbone for Palestinian Authority (PA) President Mahmoud Abbas – called for an escalation of popular protests against symbols of Israeli occupation in the West Bank: the construction of the separation barrier as well as settlements. Moreover, veteran Fatah heavyweights came out to the protests, which resulted in the arrest a Fatah Central Committee member, Abbas Zaki, along with 10 other Palestinians.
The increased involvement, top Fatah officials say, is a result of what Palestinians say is an decrease in faith in restarting peace talks, and an increase in what Palestinians see as provocative Israeli actions on the ground.
---