In Egypt, Christians celebrate Easter Sunday under shadow of Christmas attacks
Many Christians in Naga Hamadi are approaching Easter Sunday with trepidation just months after a striking episode of sectarian violence took place in their quiet city on the banks of the Nile.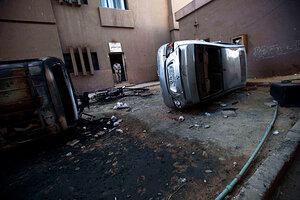 Tara Todras-Whitehill/AP
When Kamal Nashed Deryes Ghobrial celebrates Easter Sunday this weekend, it will be under the shadow of one of the most striking episodes of sectarian violence in Egypt in years.
Mr. Ghobrial's son was one of seven young men, six of them Christian, who were killed after Christmas Eve mass. The shooting was followed by three days of violent clashes and attacks against mostly Christian shops and homes in the small town and nearby villages.
When Ghobrial took his son's body to church for the funeral the day after the shooting, he says Muslims pelted him with stones. Then he watched from his window as men fought over the loot taken from a Christian neighbor's destroyed shop.
"I am not afraid, because there is nothing worse that could happen to me. After this event, we are more and more attached to Jesus," says Mr. Ghobrial, who adds that others lack his resolve. "A lot of people will stay here and not go to church on Easter because they are afraid. We don't know when this injustice will stop."
Though the violence of the attack in Naga Hamadi was startling, it was not an anomaly; attacks against Christians have become more frequent throughout Egypt in recent years.
It is driven, most agree, in part by the government's refusal to acknowledge the problem and its failure to prosecute perpetrators, leading to an environment where such attacks can occur with impunity. Some say it is also a result of the increasing Islamicization of society, with Christians complaining of being treated as interlopers in their own country, instead of citizens.
---