Arab Christians from Jordan risk all for Easter Sunday pilgrimage to Israel
Hundreds of Arab Christians from Jordan are risking their careers and reputation to complete an Easter Sunday pilgrimage to holy sites in Israel.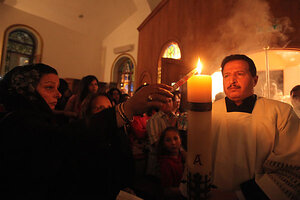 Mohammad Abu Ghosh/AP
Jerusalem; and Amman, Jordan
Many of the Arab Christians flocking to holy sites in Israel this Easter Sunday come from neighboring Jordan.
But they do so at a price.
Those who make the trek – and, as part of a broader rise in religious tourism, more are making it every year – risk their professional reputation and their family's disapproval.
For a country whose 1994 peace treaty with Israel was never accepted at the popular level, receiving an entry stamp, let alone a visa from Israel, is considered "treason" to the Arab cause.
But despite a growing movement to discredit those involved with the "Zionist enemy," hundreds of Jordanians risk their careers and reputation to complete a pilgrimage to holy sites in Israel's occupied territories.
"I cannot help it," says Daoud Yazeed, a Jordanian Christian who disguises his pilgrimages as business trips. "Jerusalem is calling."
Religious tourism
In 2009, 15,000 Jordanians traveled to Israel, the most of any Arab or Muslim country. While a majority of them were visiting Palestinian relatives, a significant number are part of a growing trend of religious tourism.
According to tour operators, an increasing number of Jordanian Christians and Muslims – Jerusalem is Islam's third holiest city – are taking part in all-inclusive week-long trips through Nazareth, Hebron, and Jerusalem, priced at $600.
---